By: Luke Kerr-Dineen June 23, 2021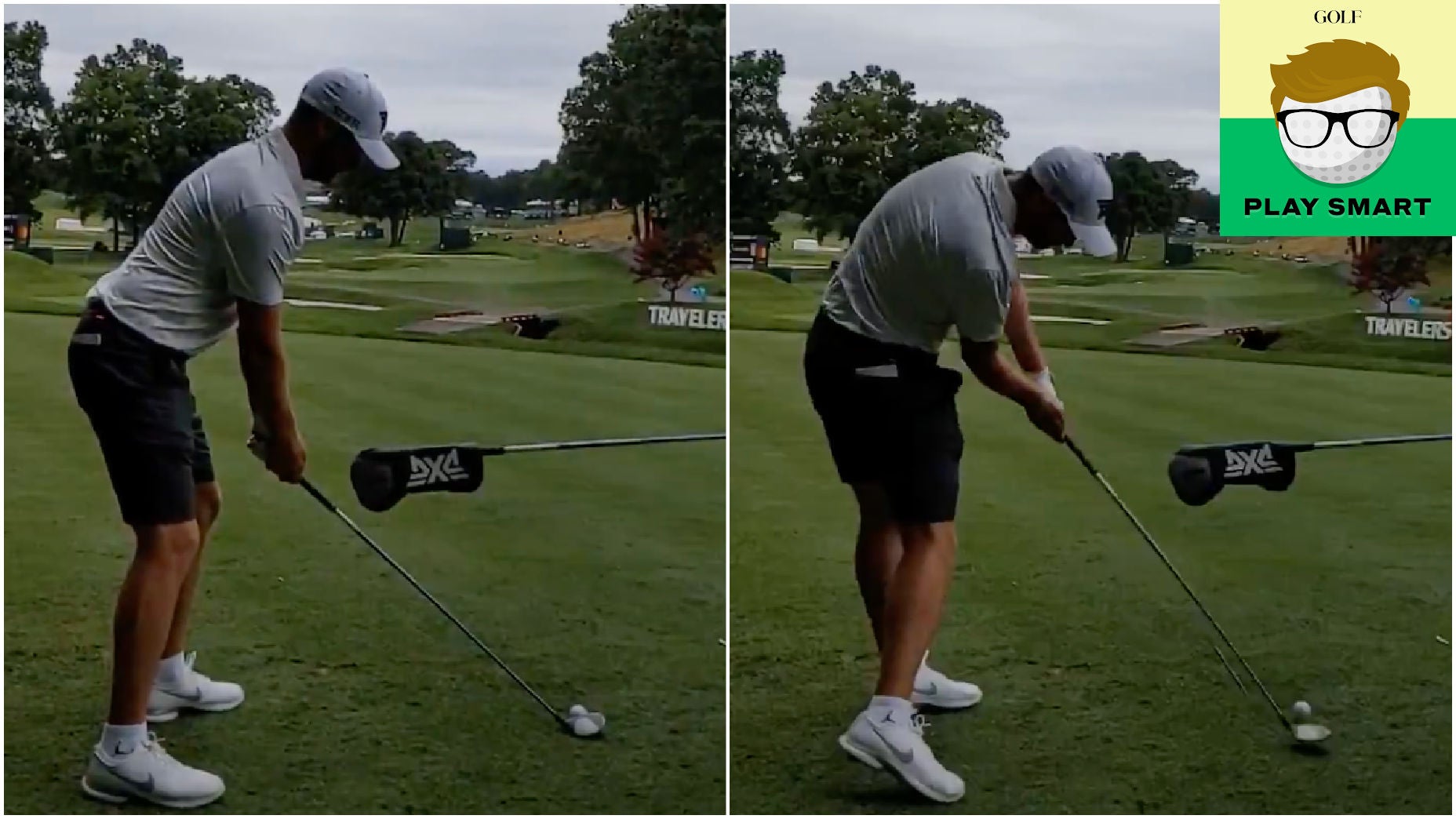 Wyndham Clark showed just how much better he than normal golfers with one simple drill.
Luke Kerr-Dineen
Welcome to Play Smart, a game-improvement column that drops every Monday, Wednesday and Friday from Game Improvement Editor Luke Kerr-Dineen to help you play smarter, better golf. Today, we're talking about PGA Tour player Wyndham Clark's interesting swing drill.
CROMWELL, Conn. — You see a lot of amazing things at PGA Tour events. Stuff that recreational golfers would have no chance at emulating. A 350-yard high draw into the fairway; a snaking lag putt to within inches; a stinger through a gap in the trees.
And, occasionally, a golf swing drill that would terrify the rest of us.
Which brings us to Wyndham Clark, a rising star on the PGA Tour who used an eye-catching drill during his practice round on TPC River Highlands' drivable 15th hole.
Clark took his setup, then his caddy pulled the driver from his bag and held it about about an inch over the bottom-end of the grip as Wyndham took his swing.
Clark's coach, GOLF Top 100 Teacher Boyd Summerhays, who's on-site this week at the Travelers Championship, has a simple message for the golfers looking to learn from this drill: "Clubface is king."
Like father, like son — golf runs deep in the Summerhays family blood
By: Luke Kerr-Dineen
The direction the clubface is pointing at impact primarily determines where the golf ball is going to go. Clark's tendency is to roll the clubface shut through impact. This drill is designed to help with that, he says: By giving him an obstacle to swing around, it forces Wyndham to keep his hands lower at impact, and release the club more around his body — all of which help him control the clubface, which again, is king.
As for those of you at home looking to learn from this drill: Stay away from it if you're a slicer. If you tend to get stuck, with a miss that's either a high hook or a block, this could potentially help. Though we suggest using a pool noodle or something else you wouldn't mind breaking by mistake if the drill goes wrong. Clark, being a Tour player, doesn't have to worry about that.
Luke Kerr-Dineen
Golf.com Contributor
Luke Kerr-Dineen is the Game Improvement Editor at GOLF Magazine and GOLF.com. In his role he oversees all the brand's service journalism spanning instruction, equipment, health and fitness, across all of GOLF's multimedia platforms.
An alumni of the International Junior Golf Academy and the University of South Carolina–Beaufort golf team, where he helped them to No. 1 in the national NAIA rankings, Luke moved to New York in 2012 to pursue his Masters degree in Journalism from Columbia University and in 2017 was named News Media Alliance's "Rising Star." His work has also appeared in USA Today, Golf Digest, Newsweek and The Daily Beast.